Back
Toys & Games
/
Toys for Kids
/
Playhouses
/
SIN:
0VA06HB5QJG01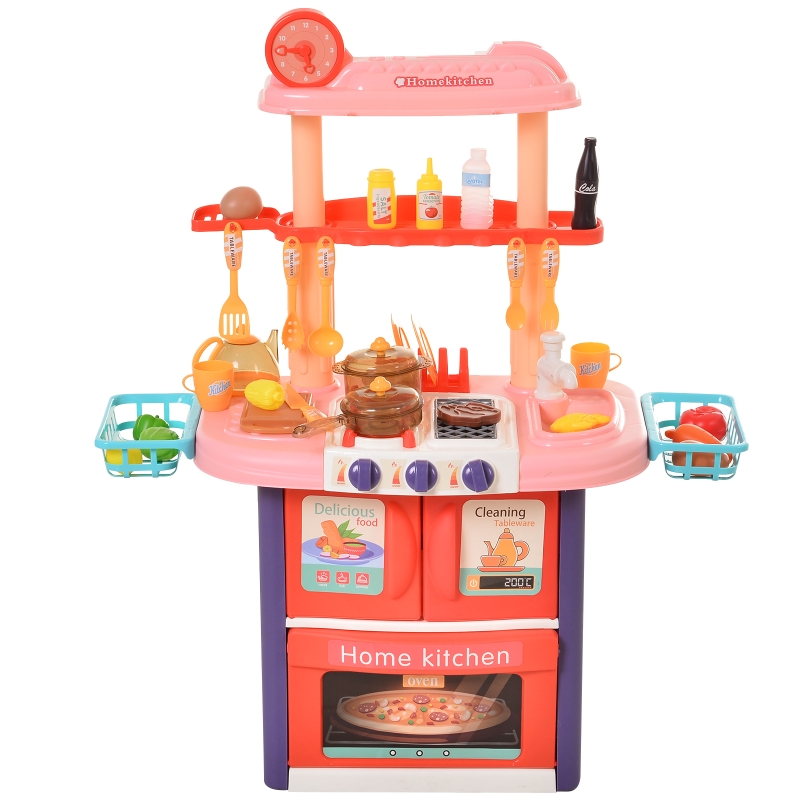 HOMCOM Kids Pretend Play PP Kitchen Set Pink/Purple
Clip & Save an extra offer when you apply this activity.
SELECT: Pink, Purple;
With this product, you earn 80 loyalty point(s).
Product Overview
COMPLETE SET: Perfect children kitchen play set toy for kids, especially for little girls of ages 3+. The whole complete set contains 1 set of kettle, 1 set of saucepan, 1 set of wok, 6-piece tableware set, 2 plates, 1 tomato sauce, 1 seasoning bottle, 2 water cups, 1 tomato, 1 potato, 1 lemon. 1 cabbage, 1 green pepper, 1 carrot, 1 corn, 1 egg, 1 chicken, 1 barbecue, 1 fish, 1 cola, 1 mineral water, 1 cutting board, 1 table top, 2 table legs, 3 cabinet doors, 1 middle shelf, 1 table top cover, 1 clock, 1 faucet, 2 storage baskets, 2 tabletop poles, 1 tableware rack, 2 table Internal partition, 1 cardboard on the back of the table, 1 sticker.
REALISTIC FUNCTION: Most of the accessories included in this set have simulation functions, such as the tap can be pressed to circulate water to simulate the process of washing vegetables. The stove can be turned on and comes with sound effects and lights to simulate the process of cooking. These real effects greatly increase the child's sense of experience.
STORAGE: The whole kitchen set contains different storage functions. The hooks and platforms on the top can be used for storage. The storage baskets on both sides can store small sundries. The cabinet under the table can also be used for storage, which is also hlpful to improve children's ability to organize.
EDUCATIONAL: The accessories included in the whole set are not only rich in functions, but also practical, which can both improve children's intelligence and cultivate children's practical ability, even improve children's aesthetic ability.
DIMENSIONS: Overall dimension: 71.5L x 35W x 85.5H cm. Suit for ages of 3+.
See More
Detail
Still looking for a good gift for your little girls? HOMCOM children kitchen playset may help you! This pretend play kitchen set is colorful with realistic design. The whole set contains many interesting accessories such as kettle, bottles, cups and etc. Your little ones can fully experience the fun of role playing games or any other games through these props at any time. In addition, while satisfying the cooking desire of children, this set also enhance their developmental skills and encourage them to use their imagination and creativity. Parents can also participate to enhance mutual affection with your kids! Just worth your purchase!
Features:
1 set of kettle, 1 set of saucepan, 1 set of wok, 6-piece tableware set, 2 plates, 1 tomato sauce, 1 seasoning bottle, 2 water cups, 1 tomato, 1 potato, 1 lemon. 1 cabbage, 1 green pepper, 1 carrot, 1 corn, 1 egg, 1 chicken, 1 barbecue, 1 fish, 1 cola, 1 mineral water, 1 cutting board, 1 table top, 2 table legs, 3 cabinet doors, 1 middle shelf, 1 table top cover, 1 clock, 1 faucet, 2 storage baskets, 2 tabletop poles, 1 tableware rack, 2 table Internal partition, 1 cardboard on the back of the table, 1 sticker included
Stylish design with classic color
Big size
Play with water
Storage function
Realistic function of accessories
Easy-to-clean by damp cloth
Parents and children can participate together
Improve children's intelligence
Cultivate children's practical ability
Enrich children's imagination
Simple assembly required
EN71-1.2.3 Certification
Specification:
Material: PP
Color: Pink, Purple
Overall dimension: 71.5L x 35W x 85.5H cm
Table height: 46 cm
Net Weight: 2.3 kg